The eBay Competition tab is designed to provide you with information on the best eBay listing format for your chosen product. Find out: 1) What success rate existing eBay sellers of your product have had in your chosen eBay site; 2) Which selling options will attract the highest selling price; 3) Know exactly when to start your auction, when to end it, at what price to start, in which category to list it, and which keywords to use within your listings.
This section also shows which eBay advanced features are worth spending on to obtain even more sales.
* Please note the data below is sample data for illustration purposes only.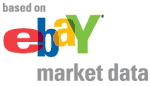 Report Summary
eBay Results Summary
| | |
| --- | --- |
| Total Listings | 500 |
| Listings with Sale | 276 |
| Success Rate (SR) | 55.20% |
| Avg. Sale Price (ASP) | £29.54 |
| Total Sales | £8,153.04 |
| Unique Sellers | 112 |
| Sellers with Sale | 91 |
| Avg. Sales per Seller | 2.46 |
| Avg. Revenue per Seller | £72.79 |
Performance
Listing TypeExpand allClose all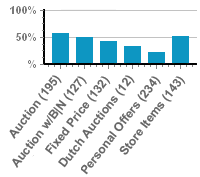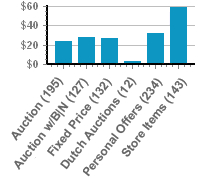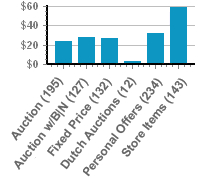 Start Day
Monday: 80%
Wednesday:£106.66
Wednesday: 71.10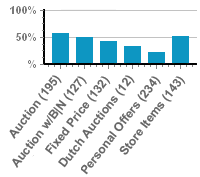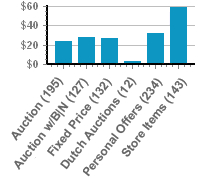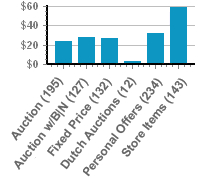 End Day
Sunday: 42.6%
Sunday: £34.22
Sunday: 14.92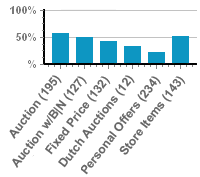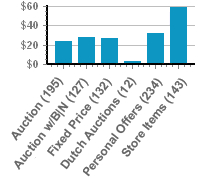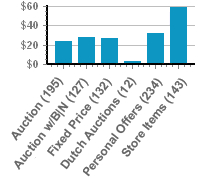 End Hour
03:00 - 03:59: 100%
05:00 - 05:59 : £54.66
06:00 - 06:59 : 82.55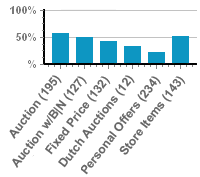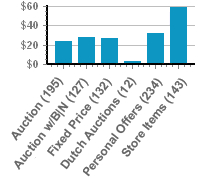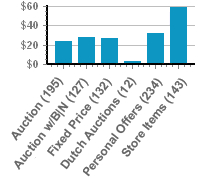 Duration
10 days: 84%
Other: £45.66
7 Days: 45.92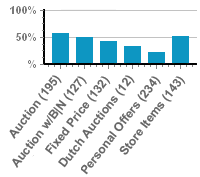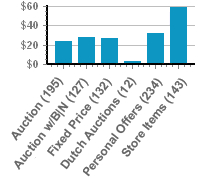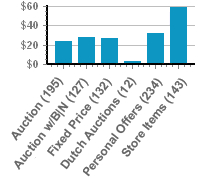 Start Price
£0.00 - £199.99: 56%
£180.00 - £249.99: £190.00
£180.00 - £399.99: 99.45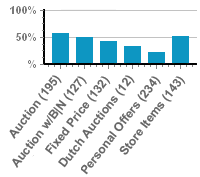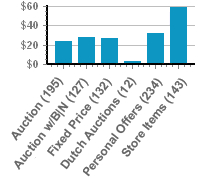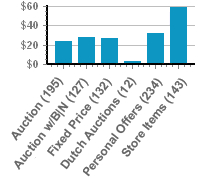 | | | | | | | |
| --- | --- | --- | --- | --- | --- | --- |
| Categories | Toys & Hobbies: | 56.32% | Collectibles: | £269.56 | Collectibles: | 82.01 |
| | | | | | |
| --- | --- | --- | --- | --- | --- |
| Collectibles: | 54.32% | Home & Garden: | £245.13 | Home & Garden: | 81.01 |
| Home & Garden: | 54.32% | Baby: | £245.13 | Baby: | 81.01 |
| Baby: | 51.33% | Everything Else: | £245.13 | Everything Else: | 81.01 |
| Everything Else: | 51.33% | Books: | £245.13 | Books: | 73.01 |
| Dolls & Bears: | 51.33% | Music: | £245.13 | Music: | 81.01 |
| Crafts | 51.33% | Dolls & Bears: | £245.13 | Dolls & Bears: | 81.01 |
| Books: | 51.33% | Crafts: | £245.13 | Crafts: | 81.01 |
| Clothing, Shoes: | 51.33% | Toys & Hobbies: | £245.13 | Toys & Hobbies: | 81.01 |
| Music: | 51.33% | Clothing, Shoes: | £245.13 | Clothing, Shoes: | 81.01 |
| Categories Toys & Hobbies: | 38.45% | Categories Toys & Hobbies: | £122.85 | Categories Toys & Hobbies: | 64.12 |
| | | | | | | |
| --- | --- | --- | --- | --- | --- | --- |
| Title Keywords | SOFT | 82% | RADIO | £269.56 | Teddy | 82.01 |
| | | | | | |
| --- | --- | --- | --- | --- | --- |
| Teddy | 81% | Flying | £245.13 | SOFT | 81.01 |
| RADIO | 80% | SOFT | £192.55 | NEW | 80.01 |
| NEW | 79% | NEW | £156.67 | RADIO | 79.01 |
| Flying | 73% | Teddy | £155.02 | Flying | 73.01 |
Listing Features Performance
| Feature | Sold Listings | Total Listings | Success Rate (SR) |
| --- | --- | --- | --- |
| | | | |
| --- | --- | --- | --- |
| Picture Services | 15,345 | 28,239 | 62.34% |
| Gallery | 6,549 | 10,342 | 59.45% |
| No Features | 7,554 | 14,122 | 53.39% |
| Buy It Now | 11,239 | 23,456 | 45.12% |
| Scheduled | 2,194 | 5,456 | 43.12% |
| Subtitle | 142 | 543 | 34.55% |
| Multilisted | 3,456 | 28,239 | 33.13% |
| Reserve | 6,549 | 10,342 | 32.45% |
| Bold | 7,554 | 14,122 | 29.23% |
| Cat Featured | 11,239 | 23,456 | 28.32% |
| Gift Listing | 2,194 | 5,456 | 26.54% |
| Highlighted | 142 | 543 | 22.19% |
| Featured | 3,456 | 9,123 | 13.45% |
Sample eBay Listings for Toys
| Item Title | Sold | Format | Start Price | End Price | Bids | End Date |
| --- | --- | --- | --- | --- | --- | --- |